Gilli Kalmin Glikberg - Pregnancy Yoga
Yoga Interview, Tel-Aviv, Israel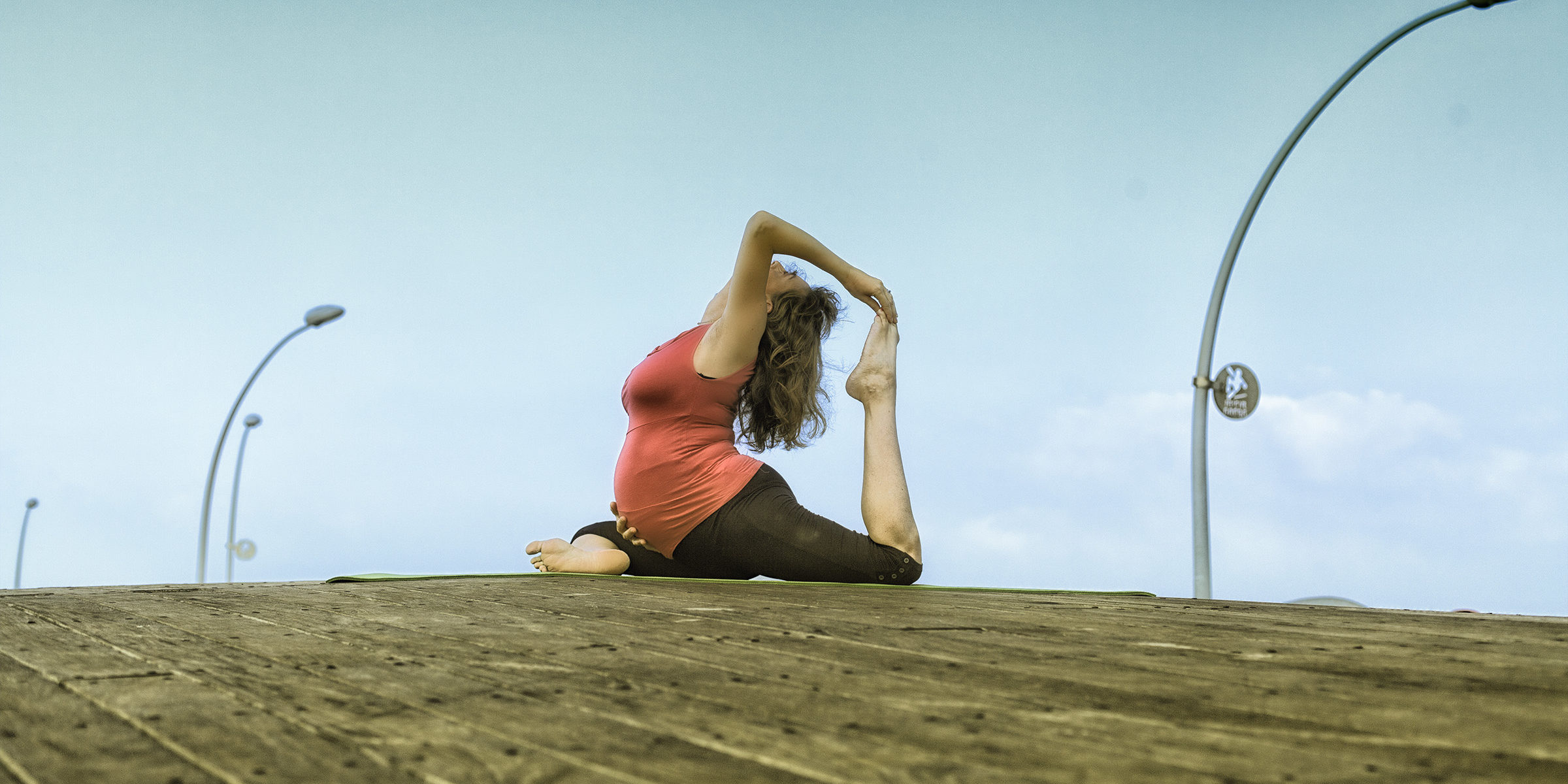 When I visited Israel in August this year I met Gilli, 8 month pregnant yogi teacher who agreed to model and answer a few question for my Yoga photography website, her soft graceful touch to yoga shine through her posture, and reading her story personally inspired me, I hope you will also be inspired!
Q: How did you find out about yoga?
Physical exercise was always part of my life. 14 years ago I belonged to a gym where I was lucky enough to be exposed to yoga classes taught by some of today top yoga teachers in Israel. I had no idea what yoga was all about but I was drawn to the practice right from the very first lesson.

Q: How long have you been practicing yoga?
I attended my first lesson was around 14 years ago, but my deeper and more serious acquaintance with the yoga world begun when I went to teachers training course 10 years ago.
Q: Why did you decided to start teaching yoga?
It was a combination of falling in love with the physical, philosophical, and spiritual practice,  alongside having the will and confidence to reveal this beautiful path called yoga to others. The further I step   in this path, the more I realize how intriguing and endless the knowledge is.
Q: Where did you study teaching yoga?
Over the years I have experienced many different teachers & yoga styles in Israel and abroad. I feel very lucky that Yoga in Israel is very developed, and has excellent  senior  teachers who train practitioners to become teachers.  I completed my teachers training course with Shimon Ben Avi (Ashtanga Vinyasa), and for the past three years have been practicing Vijnana Yoga, with Noga Barkai.
Q: Was there anything that was hard for you with your own personal practice? How did you overcome it?
Inverted poses in general were always a challenge for me, specifically headstands and handstands. This required a combination of believing that I am capable of performing these advanced Asanas and overcoming the basic fear of being upside down. I feel that overcoming physical fears often fills us with joy & releases us from many of our inner fears.
Q: How did your yoga changed since you become aware of your pregnancy? And what advice would you give to the pregnant yogi?
Since I practice yoga on a regular basis, until my third trimester I didn't have to make major changes to my regular practice. In later stages of the pregnancy, when my belly started growing & my body became heavier and less stable, I started attending  pregnancy  Yoga classes. Attending these classes, helped soften and adjust my practice to a practice that was suitable for my physical condition. I would strongly recommend yoga lessons that are tailored for pregnant women, weather you have previous yoga experience or not. There are many different kind of methods & teachers for pregnancy yoga, so generally, as in regular Yoga classes, search for the yoga style that is right for you, and more important the right teacher for you. This should be someone you can connect to and feel comfortable with.
Q: Personal motto?
I have many, but at this stage of my life I'm most reminded of a sentence one of my teachers used to describe the way Yoga should be practiced. He claimed that Yoga should be practiced in the state of mind of "doing without doing". The idea is that your practice should be balanced, finding the fine tuning of not over nor under doing at any given time.
Achieving this state of mind in our practice, often requires integrity, precision, and learning to put our ego aside. Being alive means having changes happen at any given moment. Sometimes major changes happen, such as pregnancy or aging and sometimes its smaller changes such as waking up with a headache. Being in tune with yourself, learning to adjust your practice and actions accordingly is the true art of yoga, on the mat and beyond.
Visit her facebook page
Yoga Ramat Aviv
And her website (Hebrew)
http://yogagilli.wix.com/yoga-ramat-aviv