Yoga Interview, Rome, Italy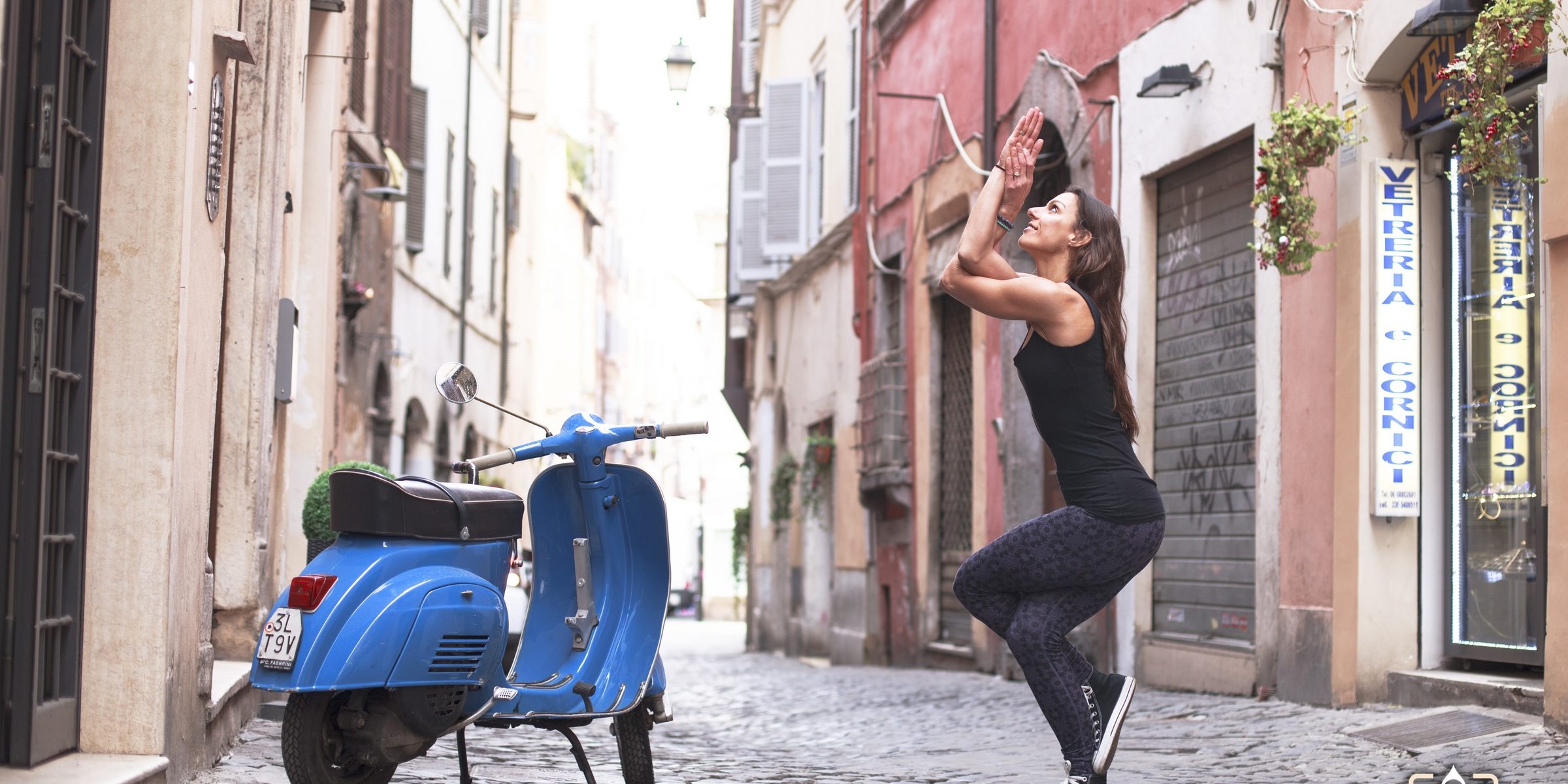 Yoga is so many things, but for me yoga is union, connection and presence.
Union of the mind, body and soul; connection to our inner self, nature and the universe; presence found through movement, breath and meditation. Ultimately yoga is oneness.
In 2010 I started to experiment with yoga. Being an athlete, I was drawn to yoga for its benefits of increasing flexibility, strength, mental focus and balance. My yoga journey, however, didn't officially take off until 2012.  It took a genuine connection with the right teacher to spark my inner light and curiosity to dive deeper into my practice. Yoga challenged me physically, but even more so mentally. And not only did yoga make me a better athlete, it also made me a better human being.
After moving to Rome from Miami in late 2013, I found myself without a yoga studio and without a yoga community. There were surprisingly only a handful of yoga studios in Rome, but I couldn't find my flow in any of them. And being in the midst of a huge transition in my life; getting married, moving across the world, leaving my family, friends, job and essentially my identity behind in Florida, I needed yoga more than ever. A few [rough] months passed without a consistent yoga practice when it occurred to me that I needed to become a yoga teacher, not only for myself, but also for the future yoga community of Rome.
Yoga has taught me to slow down and tune in to myself. The practice of non-attachment (aparigraha) has brought me so much freedom. I am more present. I am more patient with myself and with others. I am more spiritual and overall a happier person.
My classes are physically and mentally challenging. I encourage my students to expand their boundaries, get off "autopilot" and really tune in and explore their bodies. Through conscious movement and breath we can connect to our true essence letting go of attachments to outcomes.
I love when my students have "aha" moments. I've received messages about them finally understanding ujjai breath and managing to fly in bakasana when they never thought it was possible. Even just chatting with them after class about their yoga questions, progress and getting to know them on a deeper level are all special moments to me.
I see myself still practicing and teaching yoga. Of course my practice will evolve over time so I imagine I'll have a deeper meditation practice, stronger asana practice and be practicing kriya yoga. As far as yoga in the future, I definitely see yoga reaching the youth and it being spread into schools on an international level.
The beach is my sanctuary. It is my place to recharge, reflect, connect to nature, find peace and feel alive. The ocean has a way of putting everything into perspective for me and its vastness is humbling. My love for the water led me to become a certified SUP Yoga teacher. Practicing yoga on the water requires a deeper connection and presence plus it connects you with the elements of nature.
Jennifer Ursillo Marzo Yoga Photos Gallery
Follow Jennifer on social media:
www.tribevinyasa.com / @tribevinyasa / Facebook page